When you see singing audition notices, you'll often see instructions like, "32-bar cut," "16-bar cut," "one-minute cut," and the like. But what does that mean, and how do you cut an audition song. And more than that, how do you know which section to choose or what latitude you have with these cuts and the keys you're allowed to sing in?
What is a Bar
Let's start with what a 32-bar or 16-bar cut means. Some professional auditions have even moved down to an 8-bar cut. Let's look at "Tomorrow," a song you'll probably never want to show up for an audition with, unless you're called back for the part of Annie.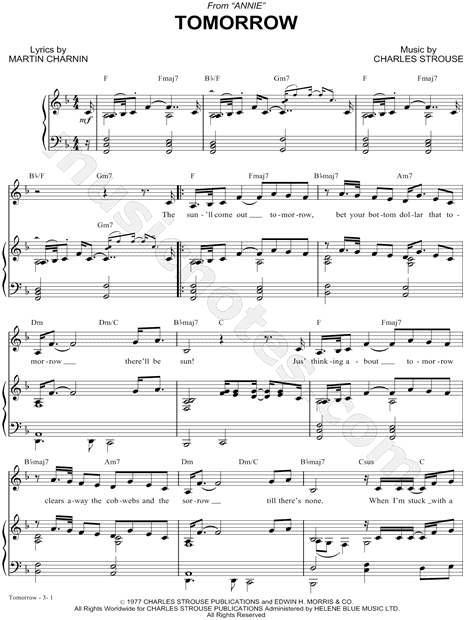 If you've never studied an instrument or learned to read music, look at those little rectangles, which include the words, "sun-ll come out__to-mor-row" in one and "bet your bot-tom dol-lar that to-" in another. Each one of those is a bar (also known as a measure).
Now if your audition notice says "32-bar cut," you'll simply count around 32 of those. If it's a 16-bar cut, you'll choose 16. And so on. Many new auditioners will make the mistake of just choosing the first 32 because it's the easiest way to go. But it's much smarter to count out your most impressive and versatile bars. If the first 32 bars just constitutes the first 2 verses, for example, it's a much better idea to cut the second verse and move to a chorus or a bridge. Or even start on the chorus and sing through the bridge–whatever shows you off the best! Just make sure that the bars you choose are well marked for your accompanist (if there is one), or that your backing track is cut correctly (if you're using a backing track). Also leave room for some sort of intro so that you can easily know when to come in.
Does it Have to Be Exact?
Nah, probably not. If your cut is 30 bars or 34 bars in order to keep it from being an awkward end point, don't sweat it. It's unlikely you'll get cut off or annoy anyone.
What If It's a Minute Cut
Same rules apply. Pick your strongest minute. You'll probably want some combination of verse-chorus-bridge if it's possible to get all of that in. If not, pick your most impressive sections for your voice, and don't repeat music too much (i.e. you probably don't want to sing the chorus twice, unless the repeated chorus does something different and impressive).
What If a Cut Isn't Listed
If it's a musical theatre audition, learn the whole song, but be prepared with a shorter cut (32 bars is good) in case they ask. For a pop audition, like American Idol, choose your most shining moments and weave them together. Even if you aren't asked to cut the song, you probably don't want to come in and sing through a bunch of repetitive verses.
Can I Change the Key?
It depends! For professional musical theatre, you're highly encouraged to stick with the original key and come in with a song sung by a part you could get cast as (i.e. don't come in with "Stars" from Les Mis if you're a soprano female). If you're going in for a pop audition, you have a little more leeway. Choose a key that's both impressive and manageable. If you're singing a cappella, just make sure you have a way of figuring out your starting note so that you don't accidentally start too high or low.
Have any audition questions? Leave them in the comments section below!